Aligner PHX Humeral Fracture Brace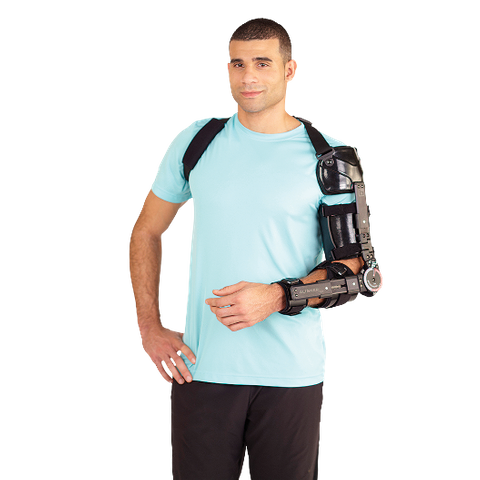 Features & Benefits
The Aligner PHX™ Humeral Fracture Brace is revolutionizing non-invasive fracture management care. This brace is engineered so health care providers can easily manipulate, control and correct bone alignment during the healing process—all without the need for surgery.
Designed for conservative treatment of the mid shaft and distal third humeral fractures, the Aligner PHX brace features a capped shoulder cuff fixated to a range of motion elbow brace with a unique varus/valgus hinge at the distal humerus.
Common Examples of Use
· For fractures of the mid-shaft and distal third humerus.
Product Features
· Shoulder Cuff—contours to the top of the humerus and assists in the suspension of the Aligner PHX brace.
· Adjustable Arm Length—a push-button telescoping design allows health care providers to customize the humeral and forearm lengths to the patient's anatomy.
· ROM Hinge—protects and limits range of elbow motion during rehabilitation. The flexion and extension can be set in 10-degree increments: -10 to 110 degrees of flexion.
· Varus/Valgus Adjustment - dual adjustment pivot points allow for fracture reduction. Health care providers can align the fracture by making varus or valgus adjustments based on information from X-rays.
· Breathable, Strong Material—a comfortable, lightweight liner allows for better air flow around the arm, while the strong outer material works to compress soft arm tissue and stabilize the fracture.
· Figure 8 Suspension—unlike traditional arm slings, attachments on the shoulder cuff distribute the suspension load evenly over the anterior and posterior area, comfortably supporting the suspended arm.